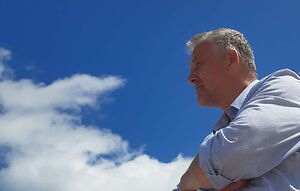 My name is Stefan Charidge and I am an expert in providing counselling and psychotherapy in a safe, confidential and non-judgmental environment.





At various times in our lives we all have unhappy periods, feel blocked or unable to control our emotions and this can lead to confusion and overwhelming feelings.
These times may or may not be connected to specific problems but manifest as a feeling of dis-ease.
I have helped many clients over come such times to feel more empowered and focused for the future.

Phone and online specialist.
So, no matter where you are you can access emotional support.
Call now for a chat.

Some client feedback:

What I got from counselling .
"A new me, A new beginning, A new start"
"It helped me understand so many things that I never really understood before."

The biggest change was .
"Looking within me for the answers. I have always relied on others to tell me what to do. You taught me how to finally trust myself and that is so empowering"

I can recommend this type of work because .
"It gets to the core issues"

"I would just like to say a big thank you for everything Stefan has done for me. When I came into counselling I had no idea in what way it could help, in the past I thought honesty was the answer to all and since I had already achieved that I was unsure how counselling would work for me. I never thought it would be so, but I honestly believe that having a fuller comprehension of myself has really helped me come to terms, understand and be at peace with myself. "



Over twenty years experience of helping clients with
:
Self Harming & Coping Strategies, OCD
Domestic violence, Eating disorders
Anger Management, Bereavement
Low Self Esteem, Self Hatred
Relationships, Panic Attacks
Redundancy, Depression
Anxiety




I work with both individuals and couples on an open-ended basis or for an agreed time period, with the aim of enabling you to enhance your life and to live it more fully. Business and personal life coaching is also available online, to explore what may be getting in the way of effective leadership and the achievement of your goals/tasks.




Therapy
Supervision
Trainings
Individual & Group Facilitator

Author of: The Penny Model
www.thepennymodel.com


Webinars & Trainings: https://cutt.ly/aGkcb0z Click the link and follow for updates and FREE webinars.


Some clients prefer short term work (4-8 sessions)
and others long term.

I specialise in Phone and video work. For individuals, anger management, counselling supervision and trainings.

I also offer workshops for counsellors and the general public on such topics as "Emotional Intelligence, Gestalt Therapy, CBT, Anger, Anxiety, and Grief.



Take the next step NOW - E.Mail [email protected]
or call 07411450950



Supervision is also offered.
For more information on fees etc, please do call or E. Mail.